June 9, 2014
It's been a busy spring here in Eden Prairie, Minnesota! Many thanks to Bywater Books for releasing The Lost Women Of Lost Lake in paperback. Rest for the Wicked will be released in the fall, again in paperback (for the first time). While being published in hardcover and ebook format has become one of the new norms for many mainstream mysteries, I've always felt that if you're not published in paperback, you miss a big part of your readership. Bywater is currently in negotiations with St. Martin's to arrange to publish the next two Jane Lawless mysteries—last fall's Taken By The Wind, and this fall's (October 2014) release, The Old Deep and Dark. All great news.
Also, for those of you who enjoy listening to audiobooks, all of the Jane Lawless mysteries are now available through Audible (as of late last month). I'm a huge fan of audiobooks myself. I've always got one going on my iPad, one in my car, and one on an iPod in the kitchen. I remember that I loved being read to when I was a little girl, and apparently I still do. Hope you give them a listen.
This month, I've been asked to take part in a blog chain. I was tagged by Paula Martinac, author of the Lambda Award-winning novel, Out of Time, to answer a few questions about my writing process. Paula's answers can be found at http://queerestplaces.com.
Next week, June 16th, I've tasked J.M. Redmann, multi award-winning mystery writer, and Fay Jacobs, multi-award winning humor author, to weigh in on the same four questions. If you're interested in writing process, do check it out.
Here are my thoughts on writing:
What am I currently working on?
I've just turned in the galleys for my newest Jane Lawless mystery, The Old Deep and Dark, which will be released in October of 2014. The next book in the series, tentatively titled The Land of the Bottom Line, will take Jane on a dark journey into the heart of a deeply troubled family. Unlike other books in the series, this story will, by challenging Jane's physical and psychological limits, take her own life to the brink of collapse. I'm very excited about this mystery—I'm always most interested in the book I'm currently working on, and yet this storyline caught me by surprise. The idea landed on me almost fully formed—something that hasn't happened since I wrote The Iron Girl many years ago. Anyway, stay tuned for updates.

How does my work differ from others in the genre?
Many, if not most, of the lesbian mysteries today fall into the category of "romantic suspense," "romantic intrigue," or "romantic adventure." You may have noticed that the one common denominator in all those sub-genres is "romance." While my main character has a personal life, one that grows and changes from book to book, my interest has never been to write a romance per se—one with mystery elements. Whether dark or traditional, I've always been drawn to stories that place the crime and the solution center stage (and not the romantic exploits of my main character.) My early books were puzzle mysteries, patterned on the early English writers—Agatha Christie, Margery Allingham, Ngaio Marsh. My later books have become a bit darker, somewhat more morally complex, though they still contain lots of humor. Again, since my main character has a personal life, her relationships are touched on, but the only reason a girlfriend or lover would emerge into the larger story is if she happened to be part of the central mystery, and that happens only rarely.
Why do I write what I do?
I've always loved mysteries. When I was a kid I read all the Nancy Drew novels. My parents gave me the entire Sherlock Holmes canon for my thirteenth birthday, and, because I have a terrible memory, I could read the stories again and again and never remember who did what to whom. I've always wanted to write. In my late thirties, three things pointed me toward the mystery novel. First, a local writer and poet, Kate Green, wrote a mystery called Shattered Moon. I thought it was incredibly good. Next, someone gave me a copy of Murder in the Collective, by Barbara Wilson. It was the first lesbian mystery I'd ever read and in an important way, I believe it gave me permission to write the book I wanted to write. And finally, I discovered P.D. James, the English mystery novelist. I heard her interviewed on TV shortly after I'd read a couple of her books, and I was deeply impressed by what she said. The interviewer said, "You're a wonderful writer. Why mysteries?" Meaning, you write well enough to be considered a literary novelist. Why write genre fiction? I can still remember her answer all these years later. She said, when she was just starting out, she thought she'd write a mystery, it would be easy enough, and it would teach her how to construct a novel. After that first book, she figured she'd move on to the real thing—literary fiction. But, she said, she realized right away that there was nothing she wanted to write about that she couldn't write about within the context of the crime novel. In fact, she liked the crime novel because it allowed her to explore good and evil, to set her stories squarely in the moral universe. That really appealed to me. Shortly after that interview, I started my first book, Hallowed Murder, and I've never looked back.
How does my writing process work?
I write to a title—that always comes first. I use the title thematically to help me figure out what the story is about. I need to know the central crime, who did it and why, and then I cast the book around that crime. Every major character needs to have some connection to that crime—they have to be a suspect. I come to the novel very much the way a reader does. I've never outlined. If I knew everything that was going to happen in a story, the sense of discovery—of surprise—would be almost entirely absent. That sense of discovery is what keeps me interested, keeps me coming back to my computer day after day.
Mystery novels are, by popular definition, considered commercial fiction. In NY, commercial fiction means a book a year. That's my deadline. It usually takes me a month or two to do the research, think through the story-line, the plot and the characterizations. At some point, I sit down and begin. I never know when that will be—it's some sort of mental threshold I cross. Can't explain it much beyond that. The first draft takes four to five months. Once it's done, I do a second draft right away—based on what I know I need to change. Four or five drafts later, I'm ready to send it off.
If I'm just starting out, just beginning to feel my way into the story, I only write an hour or two a day. But as the story starts to pick up steam, as I begin to see where I need to go, I work longer hours. I don't always write every day, especially when I'm out of town doing publicity events, but certainly I try not to let more than a few days go by without writing. If you give yourself lots of time off, you run the risk of losing the story threads, and that can spell disaster. It's one reason why young writers, who quit working on a book because they don't feel inspired, or they can't find the time, so often drift away from the book and never come back.
I only know two ways to structure a writing day. You either decide you're going to spend X number of hours a day sitting at your computer, or you decide to write until you've done a thousand, two thousand—or whatever—words. If it takes three hours to get that many words written, great. You're done. If it takes you until midnight, well, then you work until midnight. I write relatively short chapters. That's stylistic. When I'm into the book and everything is cooking, I try to do a chapter a day. That could be anywhere from a thousand to two thousand words. Writing much beyond that usually doesn't get me anywhere I truly want to go. And no, you can't wait for inspiration. As a working writer, you have to sit down and write whether you're feeling inspired or not. You hope, you may even pray, for inspiration. Some days it comes, some days it doesn't. On the days it does come, you better be sitting down at your laptop when it hits. But you have to make progress either way.

Next up:

J.M. Redmann is the author of a mystery series featuring New Orleans private detective Michele "Micky" Knight. Her latest book is The Shoal of Time. Her previous one, Ill Will, made the American Library Association GLBT Roundtable's 2013 Over the Rainbow list, won a Lambda Literary award and was a ForeWord award honorable mention. Water Mark was also on the Over the Rainbow list and won a ForeWord Gold First Place mystery award. Two of her earlier books, The Intersection of Law and Desire and Death of a Dying Man, have won Lambda Literary Awards. Law and Desire was an Editor's Choice of the San Francisco Chronicle and a recommended book on NPR's Fresh Air. Her books have been translated into Spanish, German, Dutch, Norwegian and Hebrew. She is the co-editor with Greg Herren of three anthologies, Night Shadows: Queer Horror, which was nominated for a Shirley Jackson Award, Women Of The Mean Streets: Lesbian Noir, and Men Of The Mean Streets: Gay Noir. Redmann lives in an historic neighborhood in New Orleans, at the edge of the area that flooded.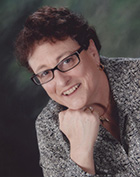 Fay Jacobs, a native New Yorker, spent 30 years in Washington, DC working in journalism, public relations and theater. She is the publisher of A&M Books, a successor to the legendary Naiad Press. Her first book, As I Lay Frying—a Rehoboth Beach Memoir (2004), is in its 3rd printing. A second essay collection, Fried & True—Tales from Rehoboth Beach won the 2008 National Federation of Press Women Book of the Year for humor. Her third book For Frying Out Loud—Rehoboth Beach Diaries won a ForeWord Reviews Humor Book of the Year, a Goldie Award, American Library Association Over the Rainbow nomination and the 2011 National Federation of Press Women Book of the Year Award. Time Fries—Aging Gracelessly in Rehoboth Beach was released in December 2013. Fay has written for The Advocate, Curve Magazine, The Washington Post, Baltimore Sun, Delaware Beach Life and more. She lives in Rehoboth (Gayberry, RFD) with Bonnie, her partner of 32 years. Contact Fay at www.aandmbooks.com.


© Ellen Hart. Web site by interbridge.