Click here for information about the Jane Lawless Series.
This Little Piggy Went to Murder (1994)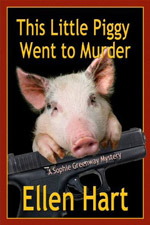 It's election year in Minnesota, and Jack Grendel, the charismatic son of a Duluth shipping magnate, is running hard for the U.S. Senate. But as the countdown approaches, a pair of grotesque murders threaten to destroy him. One is the bizarre hanging of a consultant for Grendel Shipping. The other is the shooting of Jack's own father, rather too soon after he withdraws financial support from his son's campaign. In the ugly fallout from the crimes, Jack's charm shows signs of wear. His sister, Amanda, grows edgy and secretive. And more than ever, it seems that Jack's redheaded wife would kill to get him elected.
Food critic Sophie Greenway, a family friend since childhood, observes these changes with sharp dismay and discreetly starts snooping. Amid rumors of corruption, adultery, and blackmail, a grim fact holds firm: one of her oldest friends is a killer. Which friend she may not discover—until her own life is on the line.
"Strong characters and a rich Lake Superior setting make this solidly constructed mystery hard to put down. Another winner for Ellen Hart!"
—M.D. Lake
"Hart's sense of character, plot and subtly distributed clues (none of which gives an inkling as to who the murderer is) make this a nail-biting yarn that is difficult to put down."
—Book Browsing
"This Little Piggy Went to Murder, the debut entry in Ellen Hart's second mystery series, provides a steady dose of surprises and suspense, from the grimly ingenious murder in the first two pages to the unexpected visit in the last two. The revelation of Sophie's past is an example of the inspired pacing of this mystery. The drama is not reserved for the end but meted out in irregular doses, often coming from unexpected directions."
—The Blotter
Buy it:
For Every Evil (1995)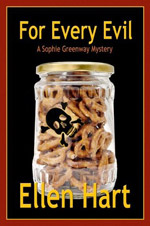 For every evil under the sun,
There is a remedy or there is none.
If there be one, seek till you find it,
If there be none, never mind it
—Mother Goose
The stylish new art exhibit at the Chappeldine Gallery pulled in all the important movers and shakers in the Twin Cities. Except one. Powerful critic Hale Micklenberg and his wife remained home, chatting with police about the bullet that had shot through their living room window. As Micklenberg had promised the show a bad review, he wasn't missed. Nor was he mourned when another bullet killed him.
Food critic Sophie Greenway was troubled to learn that her own son could be involved in the murder. But so could a host of others, including the "unhappy" widow who was tired of keep a scandalous secret at her own expense.
Guided by rumor, a bizarre phone message, and Micklenbert's obsession with an obscure artist, Sophie canvasses for a killer. Among the cheats, adulterers, and sleaze balls lurking beneath the civilized skins of her friends and colleagues, she find what she's looking for—and it's a deadly surprise.
"A dilly... A fair-play plot and contemporary characters that leap off the page... Stir Martha Grimes with P.D. James and add a dash of Christie and... you begin to get the idea: a cozy with a brain."
—Alfred Hitchcock Mystery Magazine
"Well written, with vivid characters and a neatly crafted plot."
—MLB News
"Once again, Hart kept me up all night turning pages."
—Amazon Bookstore News and Notes
"Another splendid specimen of the classical mystery story nicely updated."
—The Purloined Letter
Buy it:
The Oldest Sin (1996)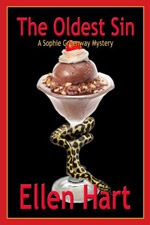 In Eden lived a serpent foul
for when he heard Eve's stomach growl,
he said by way of greeting:
"I've cooks, beer, and pretzels, too.
Deep-fried cheese and chicken stew.
I've cake and candy just for you."
The serpent coiled around her side,
and said, although he knew he lied,
"An apple isn't cheating."
The serpent looked Eve in the eye,
and said, "A teeny piece of pie?
Remember, life is fleeting."
Eve passed the apples and the chips.
She held a doughnut to her lips.
She never thought about her hips.
Though some say greed or lust or pride,
the hungry know down deep inside,
the oldest sin is eating.
—Kathleen Kruger
The historic Maxfield Plaza hotel in downtown St. Paul is packed to the rafters with two national conventions—the members of The Church of The Firstborn, and delegates to the annual Daughters of Sisyphus convention.
Five old college roommates are reunited: food critic Sophie Greenway, now owner of the hotel; Adelle, who married into the founding family of the Church of the Firstborn; Lavinia, mastermind of the Daughters of Sisyphus; and Bunny and Cindy, Lavinia's top aides. But when a death terminates one of the gang, Sophie senses that not everyone is devastated by the loss.
As Sophie delicately probes the private affairs of her hotel's star guests, she recalls another loss—of a young woman who had been the group's sixth roommate. The buried secrets of that long-ago death are exhumed as a clandestine killer stalks the halls of the Maxfield plaza, preparing a taste of the oldest sin for the final victim.
"Hart does a first-rate job with this intelligent mystery... A brisk, lively plot that melds religion and food and realistic characters make Hart's third Sophie Greenway novel a solid mystery."
—Fort Lauderdale Sun-Sentinel
"Lawless fans won't be disappointed by Greenway."
—Between the Lines
"Hart is a mistress of character and relationships."
—Minneapolis Star Tribune
"Ellen Hart once again demonstrates her mastery at weaving oddly matched characters and situations into a unified tale of mystery and murder."
—The Snooper
Buy it:
Murder in the Air (1997)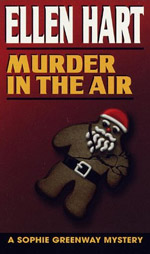 The Yuletide revival of a vintage Twin Cities radio serial isn't just for fun—dealing as it does with a scandalous unsolved 1950's murder. But an even deeper mystery intrigues radio personality Bram Baldric and his sleuthing wife, Sophie Greenway: Why has the station's owner insisted on airing this particular show when her own son happened to have been the prime suspect in the old murder case? Merriment and mistletoe are out this Christmas; menace and murder are in.
"There's no doubt about it—this is Ellen Hart's best book yet. Clear off your calendar for an evening and start reading early. You won't stop this one till you finish!"
—Molly Weston, Meritorious Mysteries
"Delicious wit."
—Minneapolis Star Tribune
Buy it:
Slice and Dice (2000)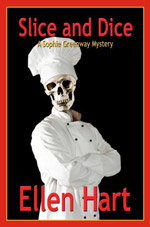 If all goes according to plan, Connie Buckridge's culinary empire will soon boast a state-of-the-art cooking school and a new restaurant in her hometown of Minneapolis-St. Paul. Unfortunately, just when the kitchen queen and her bickering entourage hit town on a publicity tour, so does a bestselling investigative writer who is hot on her scandalous trail.
Primed by an anonymous e-mail informer, Marie Damontraville is preparing to cook Connie's goose with a major expose of her strategies for success. The one missing ingredient in this unsavory stew is murder, and when food critic Sophie Greenway finds a cooking colleague stabbed to death with his own kitchen knife, a fire that has been smoldering for forty years suddenly bursts into flame.
"Ellen Hart is one of the few genre writers that I know whose novels not only form a completely consistent whole in their series form, but can also stand solidly alone on their own merits to delight the new reader who happens to pick one of them up entirely out of context. Slice And Dice, quite probably the strongest and most complex book in her Sophie Greenway culinary series yet, is absolutely case in point... Here is an expertly-crafted, utterly satisfying addition to a rock-solid series as well as a moving, one-of-a-kind thriller."
—Eleanor Miller
Buy it:
Dial M for Meatloaf (2001)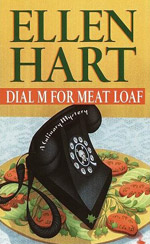 As Minnesota housewives race to meet the deadline for the Times Register's meat loaf contest, an unsavory small-towner named Kirby Runbeck is blown to smithereens by a car bomb.
Days later, the town's former mayor, John Washburn, near death from a stroke, confesses to the killing. His wife and two children vehemently deny it, but when Sophie Greenway, food maven and friend of the family, happens upon an old snapshot, a bundle of letters, and a tattoo of a red-eyed snake, she wonders about Washburn's innocence. Unlike the recipe for a prize meat loaf, this murder is seasoned with spicy secrets and a generous portion of scandal, which Sophie dares to bring to a roiling boil...
"This another food-related mystery, well-crafted and sprinkled with humor; and includes some meatloaf recipes in the back. Character connections are interwoven like a tapestry, and Hart does a nice job of keeping several people as viable suspects until the end. One side effect of reading this is a sudden craving for meatloaf!"
—Bookreporter.com
Buy it:
Death on a Silver Platter (2003)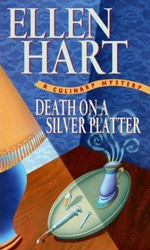 Far from being the idyllic home Carl Veelund envisioned when he built Prairie Lodge years ago, the log mansion has become the repository of many terrible secrets. Two women are dead—and truths long hidden are about to be brought to light.
When restaurant reviewer-cum-sleuth Sophie Greenway stumbles upon an old diary, she has no idea it will toss her into the center of the family tragedy unfolding at Prairie Lodge. Sophie discovers that being a friend to Elaine Veelund, daughter of mansion's designer, has become dangerous. Sophie soon realizes that in a recipe that calls for deceit, sibling rivalry, old grudges and ultimately murder, she may be the main ingredient.
"A surprise denouement and an elaborate recipe for Chez Sophia's Torta Milano round out this surprisingly rich confection and will leave readers craving Hart's next course."
—Publishers Weekly
Buy it:
No Reservations Required (2005)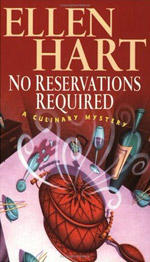 Twin Cities businessman Kent Loy is the first to die. Half an hour later, Bob Fabian, the rich and powerful owner of the Minneapolis Times Register, meets a similar fate. It was a year ago when Loy broadsided the VW Beetle drive by Fabian's wife, killing her instantly. Coincidence? Food critic Sophie Greenway doesn't buy it. Indeed, the elegant Rookery Club, where the upper crust gathers to drink, dine and gossip, is already simmering with rumors—about the murders, about a Times Register reporter's shameless fabrication of recent news stories, about rifts in two high-profile Twin Cities families. So when Sophie turns up the heat, the lethal bouillabaisse of twisted love, sadistic rage, and insatiable greed boils over. It seems that poisonous concoction, murder du jour, is back on the menu...
"Hart uses suspects and timelines as her main ingredients. She adds several subplots for body. Flavor is provided by a superb cast of characters... a great example of reading entertainment."
—Ruth Jordan, CrimeSpree
Mystery Guild Featured Alternate Selection
Buy it:
© Ellen Hart.